Easy Hanging Halloween Decorations
:
I found these cuties over at La Jolla Mom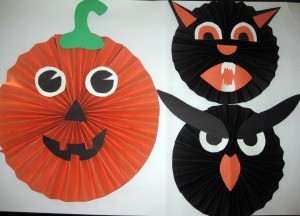 When I say easy, I mean it. My mom has saved the Halloween issues of Martha Stewart Living for at least the last 10 years. I saw these and though it looked like something I might be able to tackle. The three of these took me about 30 minutes during which I was interrupted by a very excited La Jolla Girl more times than I can count. I did fold the paper prior while I was watching TV.
Michael's has packs of single colored construction paper that are about $2.00 each. I bought a pack each of orange and black. I also bought a hot glue gun for a whopping $2.99 and I believe extra glue sticks were also about the same price. This will leave you with more supplies than you'll need. The hot glue gun is key, I don't think the centers of these will stick together as well without hot glue. Just eyeball the recommended widths. It's pretty hard to fold in exact 3/4″ widths. Some of mine wound up being 1″ or lopsided. You can wing it, just fine.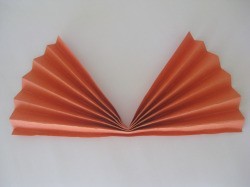 For large size (not pictured): Accordion fold the 11.5″ side of paper to about 3/4″ widths.
For medium size: Accordion fold the 8.5″ side to about 3/4″ widths.
For smaller size: These are a little easier. You'll need 3-4 pieces of paper. Accordion fold the 11″ side to 1/2-3/4″ widths. Then fold ends upward, like in the photo.
I hot glued the sides of the folded paper together to make a circle and then put a giant lump of hot glue in the center. Make sure you have newspaper or something similar below the center before you do that so that you don't drip glue. Hold circle in place for a minute or so until the center glue starts to harden. I grasped the decoration at about 10 and 2 o'clock and pressed the bottom edge into my stomach (was sitting at the table) to hold it all together.
I then looked at the Martha's photos and quickly cut out shapes for eyes, noses, teeth, etc. However, you can follow Martha's instructions and print out templates. The template needs to then be enlarged to specific sizes depending on the size of the hanging decorations. I didn't use the template but just scissored up construction paper. I'd make one eye in the best circle I could then plop it on top of the paper and cut another one. I'm sure Martha's look much nicer than mine, but my copy machine is fussy and I just didn't feel like taking the time to make templates. These will hang from my ceiling so there won't be any close inspection. Unless you're a perfectionist, you don't need the templates. However, here's links to the them:
Pumpkin
Cat
Owl
You can punch a hole, tie a string/fishing wire and hang from the ceiling or on walls. I just ordered these
3M Command Mini Hooks
so I'll take a photo when they arrive. Supposedly, they don't leave residue on walls.
Bottom line is they look better than store bought decor (even La Jolla Dad said so) and they are probably less expensive if you make quite a few. Plus, now La Jolla Girl thinks I'm the coolest thing ever. :)
Easy peasy. Here's a link to
Martha's
.
(October is Breast Cancer Awareness Month. If you know of products, services or articles that support the cause click
here
to submit the link, shop and view the current list.)
Share and Enjoy:
"